Eds. Verena Kuni & Dominik Landwehr, Basel 2013
[Hinweis: Da dieses Buch deutsch/englisch erschienen ist, gibt es diese Information auch auf Deutsch!]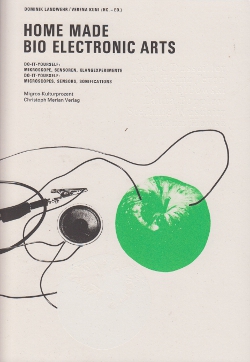 "Science for everyone" is the motto of a new movement involving biology and electronics. Here the do-it-yourself approach that is already well-established in the electronics and computer scene is applied to the field of natural sciences, often blurring the borderlines between science and art. The artists and scientists working in this interdisciplinary way refer to themselves as "bio-hackers" or "bio-punks" and deliberately take up the creative impetus provided by those two movements. Their research aims to communicate scientific knowledge that is otherwise acessable only for insiders and professionals.
HOME MADE BIO ELECTRONIC ARTS introduces important exponents of the movement and presents six simple do-it-yourself projects to experiment with.
Moreover, the book encompasses an introduction and essay drawing a line from historic precedents of scientific experiments at the interface of biology, electricity and electronics to the most recent developments, interviews as well as a glossary on ideas and concepts, a commented bibliography plus an overview over projects and initiatives active in the field.
DIY Projects:
DIY Microscope by Marc Dusseiller (CH) – Fresh Music for Rotten Vegetables by Karl Heinz Jeron (DE) – Touch Paintings by Nora Dibowski (AT) – Fungutopia MushROOM Grow Kit by Laura Popplow (DE) – Mosscillator by Stephanie Wuschitz (AT) – Inter-Species Communication Platform by Martin Howse (GB)
Note: The cover contains graphic elements (text and image) that are silk-screen printed with luminous paint – unfortunately remaining invisible here…
Metadata:
Verena Kuni & Dominik Landwehr:
HOME MADE BIO ELECTRONIC ARTS. Do-It-Yourself: Mikroskope, Sensoren, Klangexperimente. Microscopes, Sensors, Sonifications
Basel: Christoph Merian Verlag, 2013
224 p., colour illustrations
ISBN 978-3-85616-567-3
tags: alltagskultur, alltagstechnologien, analogital, art & media, art & science, audio, basteln, bricolage, commons, cultural history, design, digital media, digitale medien, diy, do it yourself, do it yourself cultures, do-it-yourself-kulturen, electronic arts, elektronische kunst, everyday cultures, everyday technologies, geek, green, grün, history of science, instrumente, instruments, klang, knowledge cultures, kulturgeschichte, kunst & medien, kunst & wissenschaft, material, material culture, materielle kultur, media cultures, medienkulturen, modelle, models, natur, nature, net cultures, netzkulturen, objects & things, objekte/sachen/dinge, participation, partizipation, philosophical toys, philosophisches spielzeug, science fiction, sound, technologie, technology, tools, werkzeug, wissenschaftsgeschichte, wissenskulturen