Datscha-Radio: Auf Wiederhören! | Hear you again!
[pls. scroll down for english version]
So schnell kann eine Woche vergehen. Datscha-Radio hat sieben Tage und Nächte lang aus dem Garten gesendet – mit zahlreichen Live-Konzerten, Performances und Gesprächen mit KünstlerInnen, MusikerInnen und GärtnerInnen, mit Lesungen, Klangkunst, Musikprogrammen und Garten-Geisterstunden rund um Gärten, Gärtnern und alles, was im Garten begegnet und erträumt werden kann.
Danke an alle, die dabei gewesen sind!
Aktuell arbeitet das Datscha-Radio-Team an der Dokumentation – aber es werden bereits Pläne für eine Fortsetzung geschmiedet…
In diesem Sinne: Auf Wiederhören bis zum nächsten Mal!
Mehr vom Datscha-Radio-Team gibt's auf der Heimseite von Datscha-Radio* – wo alle weiteren wissenswerten Informationen rund um Datscha-Radio zu finden sind.
[English]
How fast a week can pass by! Datscha-Radio has broadcasted for seven days and nights from the Garden – with a considerable number of live concerts, performances and talks with artists, musicians and gardeners, with readings, sound art, music programmes and garden ghost hours about and around gardens, gardening and everything you can find, encounter and/or dream of in a garden.
Great many thanks to everybody!
Currently, the Datscha-Radio-Team is working on the documentation. But we're already forging out plans for a follow-up…
Thus: Hear you again!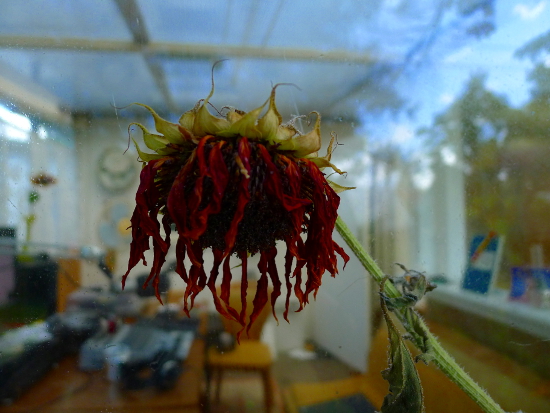 More Datscha-Radio homepage* – where you will of course also find further background information about the project…
[Bildchen | Pictures: Stimmt schon ein bisschen melancholisch, so ein Abschied. Aber wir sind sicher: Früher oder später wird die Pforte zum Datscha-Radiogarten wieder geöffnet. | A farewell – the black sun of melancholy shines over the sad, silent studio… however, we're confident sooner or later the door of our Datscha-Radio garden will open again… VK cc-by-nc-sa]
* Hyperlinks auf externe Webseiten sollten in einem eigenen Browser-Fenster öffnen. Mehr zu diesem Thema im disclaimer des www.kuniver.se. | Hyperlinks to external webpages should open in a separate window of your browser. Pls. see the disclaimer of www.kuniver.se in case.